Health ministry send teams to four hospitals in north of Italy, which has one of the world's lowest maternal mortality rates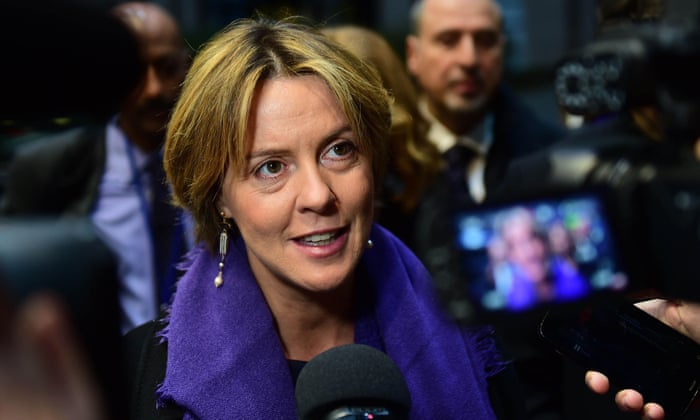 Italy's health minister, Beatrice Lorenzin, who has called for investigations into the deaths of four heavily pregnant women. Photograph: AFP/Getty
The Italian government has launched a string of investigations after five heavily pregnant women died in less than a week, causing alarm in a country with a reputation for safe childbirth.
Italy's health ministry has sent investigative teams to four hospitals in the north of the country following the deaths of women between seven and nine months pregnant.
In the most recent case, 30-year-old Giovanna Lazzari died on New Year's Eve during an emergency caesarean at a hospital in Brescia. The mother-of-two was eight months pregnant and had been admitted two days earlier suffering from a fever.
"Giovanna sent me an SMS in the middle of the night, telling me she was in serious pain and that she wasn't receiving attention from the doctors," her husband, Roberto Coppini, told Ansa news agency.
He was later called to hospital by doctors and was told his wife had lost the baby, after which Lazzari was taken into surgery to remove the foetus. A hospital spokesperson was not immediately available to comment on media reports that Lazzari died of a haemorrhage.
Her death came two days after that of Marta Lazzarin, a 35-year-old travel blogger, who was taken to the emergency room in Bassano del Grappa suffering from fever and abdominal pain. According to reports, Lazzarin had already lost her baby when her waters broke, at seven months, and she subsequently suffered a heart attack.
Days earlier, 39-year-old Angela Nesta also suffered a heart attack, shortly after giving birth to a stillborn baby at a Turin hospital. Her death came a day after Anna Massignan, 34, died on Christmas Day during an emergency caesarean in the Verona area.
The health minister, Beatrice Lorenzin, first ordered an investigation into the Turin case on Monday, while the other deaths prompted her to launch the broader investigation this weekend.
"[The task force] must ascertain if organisational faults contributed to the cause of deaths and if all the procedures to guarantee the quality and safety of care were respected," the health ministry said in a statement. Representatives from the police, health agencies and local authorities have been ordered to report their findings to the ministry.
The series of deaths has shocked Italy, which has a consistently low maternal mortality rate. Just four pregnancy-related deaths were recorded annually per 100,000 live births over the past five years, according to World Bank data. The UK ratio, falling from 10 to nine over the same period, is still more than twice as high as in Italy, while the US recorded a stable ratio of 14.
Although Italy is one of the world's safest countries to have a baby, the birth rate has fallen significantly in recent years. Earlier this year, Lorenzin warned that Italy risked turning into a "dying country" as just 509,000 births were registered in 2014 – the lowest figure since the nation was unified in 1870.