Intelligence chair Devin Nunes helped White House sideline claims he is meant to be investigating, says Adam Schiff, as Trump claims surveillance 'scandal'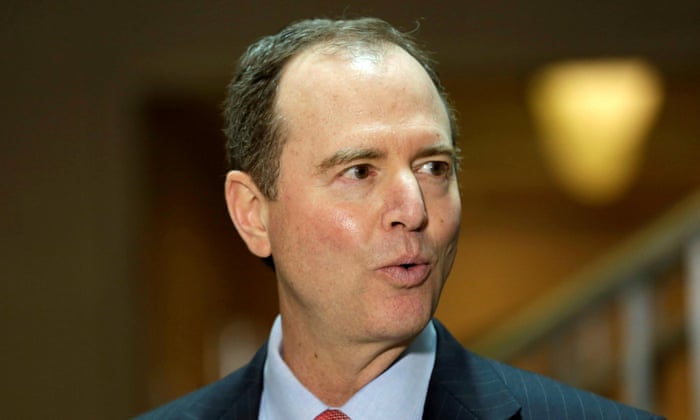 Adam Schiff, of the House intelligence committee, said Devin Nunes and the White House had made an effort 'to basically say, 'Don't look at me, don't look at Russia, there's nothing to see here'. Photograph: Yuri Gripas/Reuters
Jon Swaine
-Sunday 2 April 2017
Donald Trump's White House and a Republican congressman who is supposed to be investigating Russian interference in the US election conspired to divert attention from Moscow's actions, a senior Democrat alleged on Sunday.
The dispute between Nunes and Schiff has effectively halted the House committee's investigation of the crisis. An investigation by the Senate intelligence committee is proceeding and the FBI is separately looking into the Russian interference and potential collusion with Trump officials.
Trump on Saturday again used Twitter to attack journalists for reporting on what he termed the "Fake Trump/Russia story" rather than the "Obama SURVEILLANCE SCANDAL" that he continues to claim exists.
However, Trump's ambassador to the United Nations made clear during an interview on Sunday that she sees concerns about Russian meddling in the election as legitimate, saying "all the facts need to come out" through a comprehensive investigative process.
"Certainly, I think Russia was involved in the election," Nikki Haley told ABC's This Week. "There's no question about that." The former governor of South Carolina added: "We don't want any country involved in our elections, ever."
Trump's dismissive remarks were further challenged last week when Michael Flynn, the disgraced former national security adviser, requested immunity from prosecution in return for his testimony to congressional investigators.
Flynn was forced to resign in February following revelations that he lied about his communications with Russia's ambassador to the US.

Trump wants Flynn to testify in Russia inquiry, White House says
The White House released documents on Saturday showing that Flynn initially failed to list payments from Russian companies, including the state-funded broadcaster RT, in his financial disclosure paperwork.
Senator John McCain, the 2008 Republican presidential nominee, on Sunday reiterated his view that the Russia saga must now be investigated by a special independent committee. Democrats and some other Republicans have made the same demand.
"Every time we turn around, another shoe drops from this centipede," McCain told ABC's This Week.
Nunes has said he will not step down from his chairmanship or recuse himself from the Russia investigation, despite calls to do so from Democrats and some of his Republican colleagues.
Mitch McConnell, the Republican majority leader in the Senate, dismissed the notion that what he called "yet another investigation" was needed to ensure non-partisan conclusions.
"It's just not necessary based on what we know now," said McConnell on Fox News Sunday.
Schiff said that when he was eventually shown the documents at the heart of Nunes's allegation, a White House official told him the documents had been produced during the "ordinary course of business".
This did not tally with the highly unusual series of actions by Nunes, according to the California Democrat.
"If these were produced either by or for the White House, then why all the subterfuge?" Schiff asked.