World Health Organization confirms cases of virus in north-east Bas-Uele province, bordering Central African Republic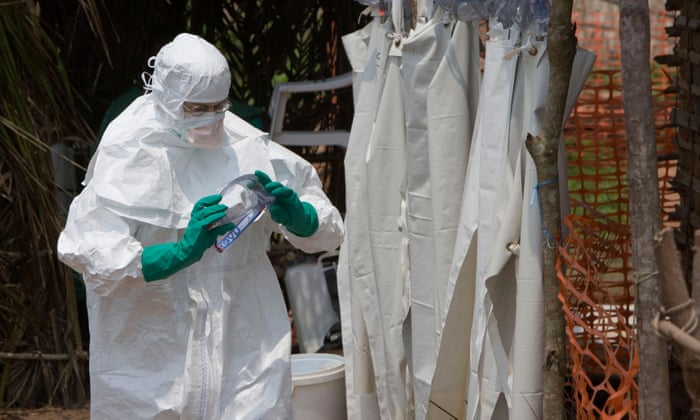 A health worker at an Ebola isolation centre in Kampungu, Democratic Republic of the Congo, during an outbreak in 2007. Photograph: Reuters
In a televised address, DRC's health minister, Oly Ilunga Kalenga, warned that the outbreak was a "national health emergency with international significance" but urged people "not to panic".
"As this is the eighth epidemic [of Ebola] that we are facing as a nation, we should not be rattled," Kalenga said. "The ministry of health is taking all measures to respond quickly and efficiently to this new outbreak."
The WHO's in-country spokesperson, Eugene Kabambi, said regional health workers and protective equipment had already been rolled out to the remote area to contain the virus. A national team of personnel, along with experts and specialists from Médecins Sans Frontières, the US Centre for Disease Control, Unicef and WHO, will be following in the next few days.
"The DRC is a big country and the zone affected is quite difficult to access, but it is right on the border with Central African Republic," said Kabambi. "People are constantly coming and going across the border to visit friends and family, so we are taking very urgent preventative measures to contain the risk.
"We must engage with local communities so they understand that this is a virus unlike any other, it is very contagious and deadly. We are engaging with village heads and community leaders so we can all work together and stop the virus from spreading."
A conference call between DRC and CAR officials, as well as WHO experts, had taken place, Kabambi said, during which CAR officials confirmed that they too were taking preventative measures along the border.
The WHO has recently developed an Ebola vaccine for use in case of an outbreak. Dr Seth Berkley of Gavi, the vaccine alliance, which paired with Merck to develop the vaccine, said clinical trials had proven to be highly successful,
"There are 300,000 doses of Ebola vaccine available if needed to stop this outbreak becoming a pandemic," Berkley said. "The vaccine has shown high efficacy in clinical trials and could play a vital role in protecting the most vulnerable."