Philippines: Greenpeace unfurls 'beached' plastic whale to raise awareness
A boy looks at a whale shaped art installation that is made of plastic and trash made by environmental activist group Greenpeace Philippines, lying along the shore in Naic, Cavite, in the Philippines May 12, 2017. Source: Reuters/Erik De Castro
12th May 2017
GREENPEACE Philippines has installed a giant whale artwork made entirely out of plastic at the Sea Side Beach Resort in Naic, Civate.
"Listen to the dead whale's wake-up call, look closer and see what plastic pollution does to the ocean," Greenpeace Philippines posted in its 
Facebook page
.
"We hope that this installation encourages the public to take action and #RefusePlastic. Let us tell Asean Countries to end the scourge of plastics," it said providing the link to 
a petition
. The installation is part of Greenpeace's #RefusePlastic campaign.
RT gpph: Join the
#RefusePlastic
Twitter conversation: A discussion on the dead whale's wake-up call, 10am.
#Clima
…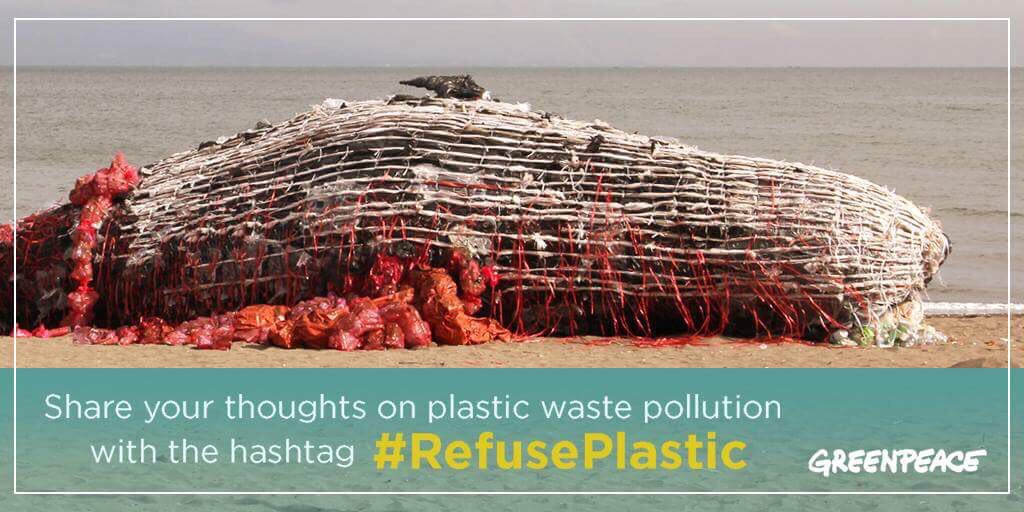 As host to this year's Asean forum, environmentalists are urging the Philippines to take leadership on addressing plastic pollution.
Greenpeace this week expressed concern about President Rodrigo Duterte's decision to replace environment minister Regina Lopez with ex-army general Roy Cimatu, questioning whether Cimatu would continue with meaningful environmental reform.
"We are confident that Secretary Cimatu shall faithfully serve the interest of the country and the Filipino people in his capacity as the new Department of Environment and Natural Resources Secretary," Duterte's spokesman Ernesto Abella said in a statement on Monday.