Tadeu Filippelli, a former vice-governor of the capital and cabinet adviser, was among three senior politicians detained in Brazil's latest corruption scandal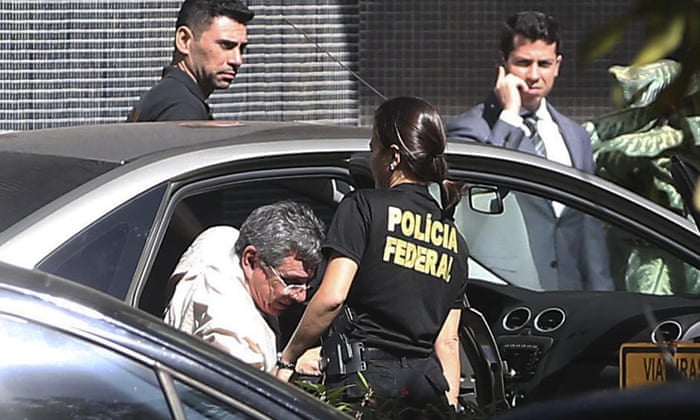 Tadeu Filippelli arrives at federal police headquarters after his arrest in Brasilia, Brazil, Tuesday. Photograph: Jose Cruz/AP
Tadeu Filippelli, a former vice-governor of the capital and cabinet adviser, was among three senior politicians detained by police during morning raids. The suspects are accused of deliberately inflating the cost of the Mane Garrincha stadium in return for bribes from the construction company.
Eight members of the cabinet are also being investigated for alleged graft related to the state-run oil company Petrobras and the construction company Odebrecht.
Temer has denied the accusations and refused to step down. "I won't resign. Oust me if you want," he said in an interview with Brazil's Folha de São Paulo newspaper on Monday.
At least nine impeachment motions have been submitted against him in Congress, including one by the Bar Association. The president's approval ratings have fallen into single digits.
Their worst fears have been confirmed by recent testimonies from Odebrecht construction executives, who revealed that renovation costs for at least five World Cup venues were artificially inflated to generate kickbacks to politicians.