Sylvie Goulard, who is second minister to go in 24 hours, steps down over allegations her MoDem party misused European funds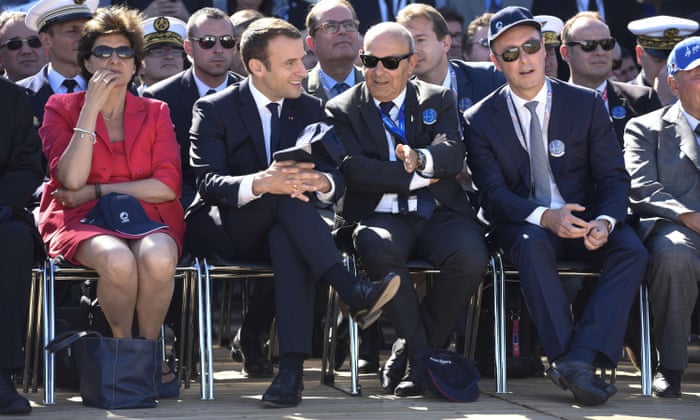 Sylvie Goulard sitting next to Emmanuel Macron at the Paris air show on Monday. Photograph: SIPA/REX/Shutterstock
President Macron has pledged to clean up French politics and public life after a series of scandals that have damaged voter confidence in their elected representatives. A "moralisation bill" that bans politicians from employing family members and obliging them to declare their personal interests when in office is expected to be one of his government's first pieces of legislation.
"Defence is a demanding portfolio. The honour of our armies, of the men and women who serve and put their lives in danger should not be mixed up in controversies that have nothing to do with them."
On Monday, Richard Ferrand, minister for territorial cohsion and the general secretary of Macron's fledgling political party La République en Marche (La REM – Republic on the Move) resigned after he was put under preliminary investigation for nepotism and financial impropriety.
The departure of Ferrand, a close friend of Macron, was sold as a promotion; he will lead the REM parliamentary group.
The French government resigned after the parliamentary vote – as is required. New appointments are expected on Wednesday in what has been described as a "technical reshuffle".
MoDem MEPs are the subject of a preliminary investigation by Paris anti-corruption police for allegations of "breach of trust and concealment of this offence". The inquiry centres on whether assistants employed to work at the European parliament were used for MoDem party business.
A total of 19 French MEPs are under preliminary investigation. MoDem said in a statement that it had "respected all the rules and employer regulations".
Ferrand, who is accused of favouring his partner when looking to hire an office for a Brittany-based health "mutuelle" of which he was president, has also denied any wrongdoing, favouritism or conflict of interest.