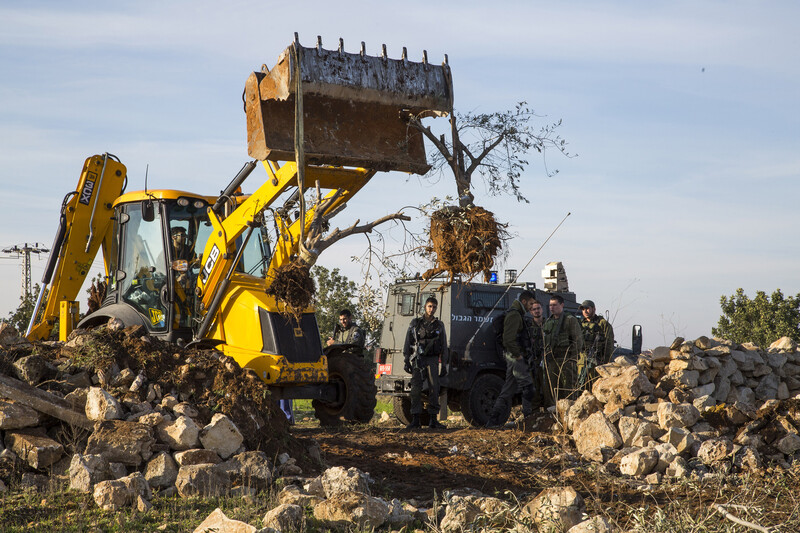 A JCB bulldozer, guarded by Israeli occupation forces, is used to uproot olive trees on private Palestinian land near Nabi Elias in the occupied West Bank in order to build a road for Israeli settlers, 16 January 2017.
Keren ManorActiveStills
Earlier this month Israel's highest court 
gave final approval
 to destroy the West Bank village to make way for Israeli settlements.
If the residents don't comply, Israel is expected to send in its bulldozers any day. It is almost certain they will include machines made by British firm 
JCB
, whose equipment has been used for years to demolish Palestinian property in the occupied West Bank.
Destruction of Khan al-Ahmar 
would be a war crime
 under international law, and JCB executives are being warned they could face criminal liability for their role.
British Palestine solidarity activists blocked the entrance to the JCB distribution center in Derby this month to protest the company's involvement in the demolitions of Palestinian homes.
JCB's 
claim
 that it wants "to help build a better future for our children, where hard work and dedication are given their just reward" must taste bitter for these youth.
JCB and Khan al-Ahmar
On 4 July, BBC correspondent Tom Bateman tweeted a photo of Israeli forces using a JCB excavator to clear the way for the forcible evacuation of Khan al-Ahmar.
London-based Lawyers for Palestinian Human Rights immediately 
wrote
 to UK Foreign Office minister Alistair Burt urging the government to intervene and charging that JCB's involvement in the pending demolition of Khan al-Ahmar "may amount to aiding and abetting a war crime."
Labour Party lawmaker Paula Sherriff raised the issue in Parliament and Burt 
assured her
 that an investigation into the use of JCB machinery in the demolition of Khan al-Ahmar would be carried out.
But European governments have a history of prioritizing trade with Israel over respect for international law, and no history of imposing costs on Israel or on the companies that assist its violations.
European Union diplomats have limited their response to toothless statements and symbolic visits.
In August, Lawyers for Palestinian Human Rights also 
wrote
 to JCB asserting that "involvement in the demolition process of Khan al-Ahmar may amount to aiding and abetting the war crime of forcible transfer."
JCB has 
not responded
 to an invitation from the Business and Human Rights Resource Centre, a corporate accountability watchdog, to answer the allegations in the letter.
A record of destruction
Since then, the use of JCB machines has been documented repeatedly during Israel's violations of Palestinian rights:
25 July 2018: A JCB bulldozer was used in the demolition of an EU-funded daycare facility that served dozens of children and a women's community center in Jabal al-Baba village near East Jerusalem in the occupied West Bank.
4 July 2018: Israeli forces demolished nine Palestinian homes and three farm buildings in the Abu Nuwwar community near East Jerusalem with JCB equipment, leaving 62 people homeless.
5 January 2015: JCB equipment was documented being used for construction in the West Bank settlement of Ariel.
"Criminal liability"
JCB's corporate leaders cannot have failed to notice Israel's use of their products in its systematic violations of Palestinian rights.
That is why Palestine solidarity activists have initiated a campaign in the UK to hold 
JCB accountable
 .
Lawyers for Palestinian Human Rights gave JCB chair Anthony Bamford and CEO Graeme MacDonald fair warning that their firm's involvement in the imminent demolition of Khan al-Ahmar could "incur the criminal liability of individuals within the company."